THE NEW EXCITING MIKO'S WORLD IP AS A FRANCHISE AND LICENSE OPPORTUNITY FOR SNOWPARKS AROUND THE WORLD!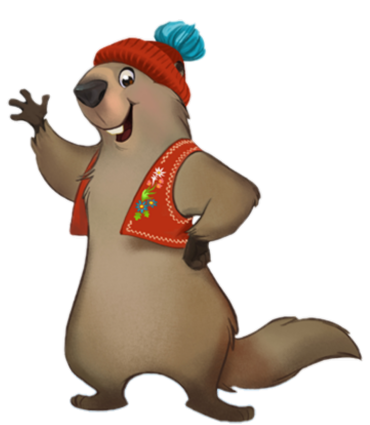 This new IP represents a great franchise and license opportunity for indoor winter attraction parks, including great stories, amazing themed snow & ice rides and innovative entertainments for kids and families! This IP features a marmots' family and their other animals friends from the Alps experiencing all kinds of fun adventures in the SnowPark. Visitors are "beamed" into an Alpine winter landscape with mountain sceneries, chalet facades, snowy rockwork, F&B terraces, real snowfall, show control with specially composed music and light effects.
And above all, it's fun - it's snow magic!
The storytelling of the SnowPark is based on the adventures of the marmots' family and their friends who live in the picturesque Alps. The marmots' family consists of Miko (son), Maya (daughter), Mutti (mother) and Max (father). The main character is Miko. He and his sister Maya with their friends often go on exciting adventures. Among their friends we find a mountain goat, an alpine hare, an alpine eagle, a snow fox, an alpine cough, a St Bernard dog, an owl, a cow, a deer and a brown bear. All characters have their own profiles to create the integrity of the whole storytelling as featured throughout the SnowPark.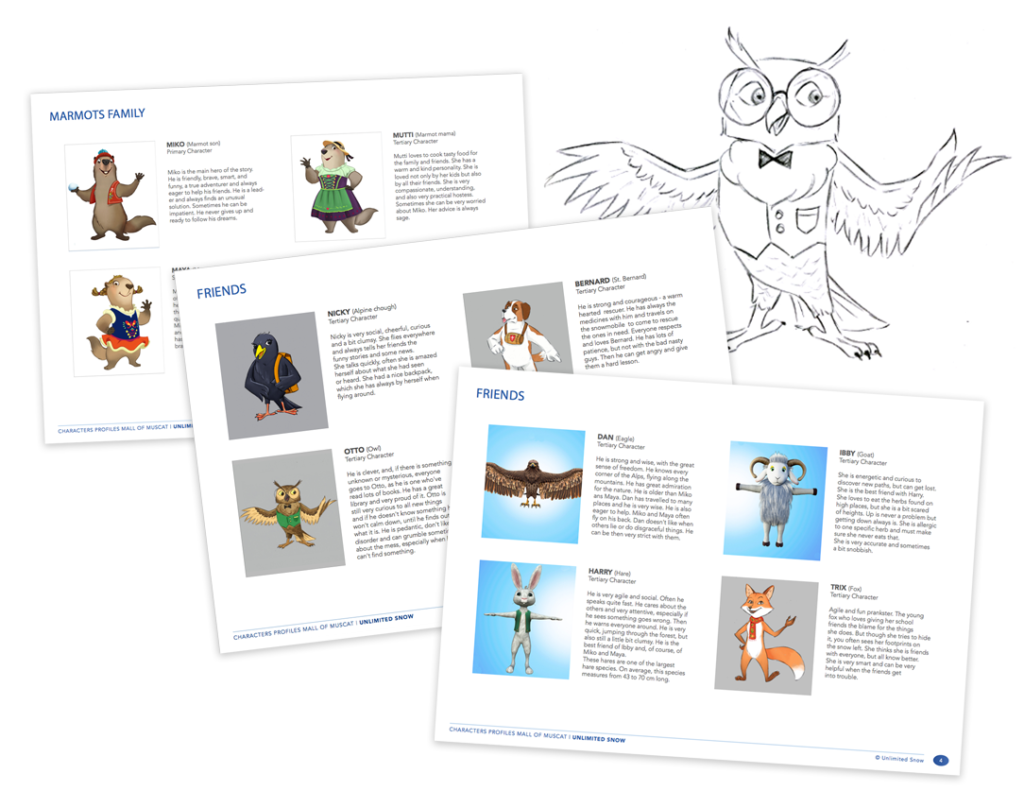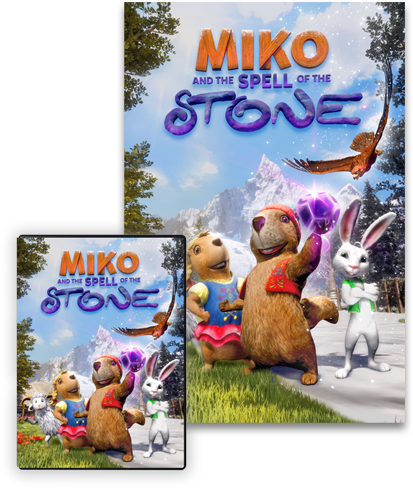 An exciting 3D film called "Miko and the spell of the stone" has been produced, whereby Miko encounters a magic stone reversing the flow of time changing seasons.
Miko, Maya and their friends go on adventure to get winter back. Exciting rides, beautiful landscapes, dramatic plot of the film will thrill the audience. They will fall in love with Miko - the main hero, who never gives up!
The constantly extended merchandising program offers great variety of assortment, tailored for the families and children of different ages. It consists of various adorable plush items in different sizes featuring the whole marmot family and friends, a singing and dancing Miko, a talk back Miko, a singing mountain goat, toys, play sets, souvenirs, puzzles, games, school items, clothing, such as T-shirts, scarves, caps, beanies, gloves and other accessories.
There are 60+ possible snow & ice games and attractions for all age groups tailored for any location depending on market size and target groups.
Some 20 of these are featured in the first Miko's World opening soon, including lots of snow play, bumper cars on ice, kids snowmobiling, snow tubing carousel, snow diggers, straight and curved slides,
synthetic ice climbing, climbing and crawling for toddlers, snowball throwing challenge to wake up Maya, ice-skating and curling rink, an ice cave, a 3D theatre, a storytelling corner and an educational tour featuring the flora and fauna in the Alps.
Unlimited Leisure now offers the complete Miko's World marmots experience as a franchise and license opportunity on a geographical exclusive basis for permanent or relocatable facilities including stories, themed attractions, operations handbook, merchandising, training, management agreement or Joint Venture.
Miko's World is also available as a "Plug and Play" concept that can be easily implemented in any mall or event location without the requirement of costly alterations and cooling. The only requirement is an empty building or tent, with normal airconditioned temperature, with standard utilities. Miko's World includes everything an attraction needs, including ticketing, F&B and merchandise shop. Miko's World can be developed to fit any size. To get you inspired we developed several examples:
Miko's mall of 600 m², 1200 m², 2400 m², 5000 m². (6500/13000/25800,53800 sq.ft)
Attractions in Miko's World are easy to change or to update, which keep Miko's World fresh all the time.
The SnowPark also features TapeMyDay, a system automatically creating a photo and video diary of the entire visitors' stay. Long queue lines are the no. 1 guest complaint around the world. Therefore TheExperienceTicket.com provides a complete online and POS ticketing system where people can book time slots for all their rides in advance.
info@unlimitedleisure.com
licensing@unlimitedleisure.com